Kenai Fjords Glacier Lodge
Kenai Fjords Glacier Lodge
Overview
As the only wilderness lodge within Alaska's 700,000-acre Kenai Fjords National Park, a stay at Kenai Fjords Glacier Lodge offers unparalleled wilderness access for your Alaska vacation! Nestled within an Alaska Native-owned wildlife sanctuary, the lodge and guest cabins enjoy stunning views of Pedersen Glacier. Lodge activities include sea kayaking amid harbor seals and glittering glacial ice, hiking to stunning vistas of the mountains and ocean, walking through the verdant coastal forest surrounding the lodge, beachcombing on Aialik Bay, canoe explorations to watch the wildlife play, and more! Each day, choose the activities that match your interest and energy level.
The lodge features a beautiful dining room and lounge area, as well as a staffed bar for a glass of beer or wine. An expansive deck with rocking chairs and views of Pedersen Glacier are just steps out from the main lodge. Private cabins, fresh and hearty meals prepared with gourmet flair, and a relaxing cedar sauna equipped with a Finnish stove complete your experience in rugged seacoast Alaska.
Kenai Fjords Glacier Lodge
Amenities
Lodge: The only lodge within Kenai Fjords National Park; Gorgeous eco-friendly timber construction built to minimize the impact on the natural area; Large dining room with panoramic views of Pedersen Lagoon and Glacier; Comfortable lounge with seating area and wood stove; Bar with beer, wine and "glacier-itas."
Cabins: Sixteen guest cabins with views of Pedersen Lagoon and connected via a network of elevated boardwalks to the main lodge area; Cozy interiors with lodge-style furnishings, linens, blankets, on demand heat and electricity; Private en-suite bathroom and private porch; Off the grid (no internet or cell service).
Grounds: Spacious elevated deck with rocking chairs; Wood-fired cedar sauna built in the cooperage tradition with a Finnish stove and stone hearth; Several walking trails around the lodge grounds, including access to the rocky beach on Aialik Bay.
Kenai Fjords Glacier Lodge
Packages
Whether you plan to visit one of our lodges for a short stay or enjoy a lodge-to-lodge package, we'll help find the perfect trip for you! Explore our most popular lodge packages below to review itinerary details, activity inclusions and pricing - or, get in touch to discuss customizable options!
If you'd like a vacation focused only at Kenai Fjords Glacier Lodge, you can find the itinerary options, trip length and pricing details here.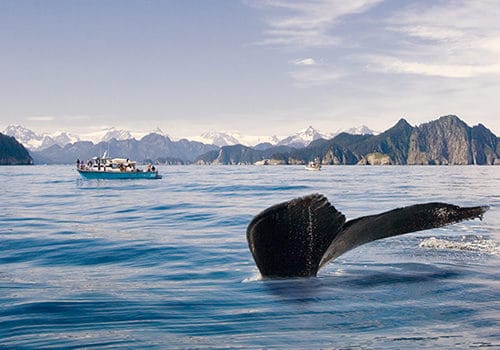 Our most comprehensive adventure, this trip stays at all three of our deluxe wilderness lodges on the Kenai Peninsula and an immersive experience in Denali National Park over a relaxed, 11-day journey.
Read More >
Learn More >
Experience the best of Alaska in just over a week: the stunning seacoast of Kenai Fjords National Park, a cozy eco-lodge deep in Kenai National Wildlife Refuge, and time to explore Denali National Park.
Read More >
Learn More >
This week-long trip offers an in-depth stay in two magical national parks: Kenai Fjords and Denali. Explore the rugged seacoast, then venture deep into the heart of Denali National Park.
Read More >
Learn More >
Kenai Fjords Glacier Lodge
Map & Location
Located roughly 2.5 hours south of Anchorage, the small community of Seward, Alaska acts as the gateway to Kenai Fjords National Park. Boat access to Kenai Fjords Glacier Lodge departs from the Seward Harbor; this transfer to the Glacier Lodge doubles as a marine wildlife and glacier cruise in Kenai Fjords National Park.
Kenai Fjords Glacier Lodge
Video