Kenai Backcountry Lodge
Overview
Located in the heart of Kenai National Wildlife Refuge on the shores of glacier-carved Skilak Lake, Kenai Backcountry Lodge is a remote wilderness retreat. Accessible only by boat, this historic property offers a chance to relax and reconnect with nature far from busy tourist areas. Activities are designed to highlight the stunning landscape, including the magnificent Cottonwood Trail overlooking the surrounding mountains and Skilak Lake below.
Cozy guest cabins are nestled into the forest and just steps away from the outdoor gazebo, wood-fired sauna and main lodge. Fresh and Alaskan-sourced gourmet meals are always a highlight of Alaska Wildland trips, and ask about the custom hydro-electric system, which utilizes the power of a nearby creek to lessen the dependence on generators.
Kenai Backcountry Lodge
Amenities
Lodge: Originally built in the 1930s as a remote hunting lodge, Kenai Backcountry Lodge was lovingly restored and renovated to preserve its historic character; Rustically elegant lounge and dining room heated by a wood stove; Pour yourself a glass of wine or enjoy a creek-cooled beer.
Cabins: Nine guest cabins tucked into the surrounding forest near the main lodge and connected via gravel pathways and boardwalks; Cozy ambience with lodge-style furnishings, linens, comforters, propane heaters and lights; Each cabin has at least two beds, a private en suite bathroom and shower and a private porch; Off the grid (electrical outlets for charging electronics are available in the main lodge); We can support CPAP machines in certain cabins.
Grounds: Wood-fired sauna (and a quick plunge into the lake afterwards if you dare!); Canopy-covered ping-pong table; Lakeside chairs and campfire area; Screened-in gazebo set in the woods.
Kenai Backcountry Lodge
Packages
Whether you plan to visit one of our lodges for a short stay or enjoy a lodge-to-lodge package, we'll help find the perfect trip for you! Explore our most popular lodge packages below to review itinerary details, activity inclusions and pricing - or, get in touch to discuss customizable options!
If you'd like a vacation focused only at Kenai Backcountry Lodge, you can find the itinerary options, trip length and pricing details here.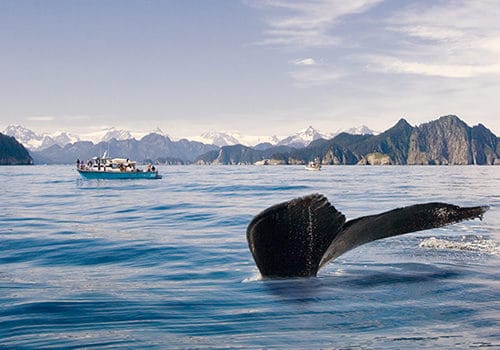 Our most comprehensive adventure, this trip stays at all three of our deluxe wilderness lodges on the Kenai Peninsula and an immersive experience in Denali National Park over a relaxed, 11-day journey.
Read More >
Learn More >
Experience the best of Alaska in just over a week: the stunning seacoast of Kenai Fjords National Park, a cozy eco-lodge deep in Kenai National Wildlife Refuge, and time to explore Denali National Park.
Read More >
Learn More >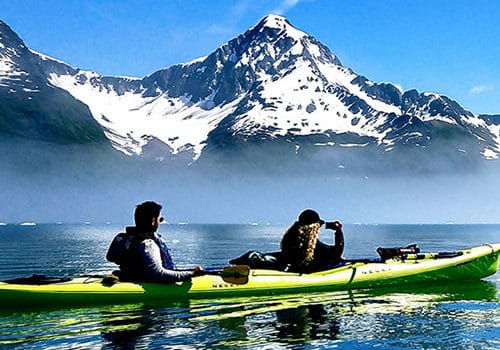 Stay at all three of our wilderness lodges for a trip that highlights the Kenai River, backcountry Alaska; and the stunning and rugged seacoast. Choose a trip from five to seven days (or more) and choose your own trip dates!
Read More >
Learn More >
Kenai Backcountry Lodge
Map & Location
Kenai Backcountry Lodge is located on glacier-carved Skilak Lake and is accessible only by boat from Kenai Riverside Lodge. Located at Milepost 50.1 on the Sterling Highway, Kenai Riverside Lodge is an easy two-hour drive from Anchorage or one-hour drive from Seward. The Seward Highway is one of the most beautiful drives in the United States, unspoiled by billboards or fast food chains and boasting plenty of pull-outs and view points along the way. Mountain passes, Turnagain Arm, and evidence of the 1964 earthquake near Portage are all popular places to stop and take in the vistas with your eyes and camera on the journey south.
Kenai Backcountry Lodge
Video